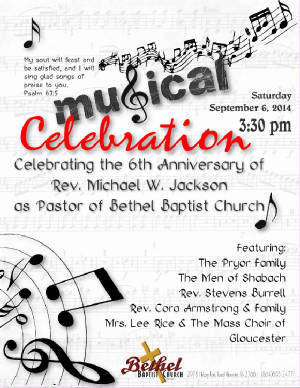 "Six Successful Black Men: Habits From Poverty to Prosperity"
Pick up your copy of Six Successful Black Men: Habits From Poverty to Prosperity by Dr. Samuel L. Woodard Ed.D today.
The books are now available at Amazon.com and Heaven & Earth in the York River Crossing shopping center in Hayes for $15. Remember – Bethel receives $10 from the purchase price of each book. A copy of the book is in the glass door directory in the vestibule.

Fish Fry & Yard Sale
The Trustee Ministry will hold a Yard Sale and Fish Fry on Saturday, September 20, 2014, from 8:00 AM - 3:00 PM at the Masonic Hall on Rte. 17 (just past the hospital, near the 7-11). Spaces available for $15 ea. Please contact Sis. Barbara Howard, Mon-Fri, to reserve a space.
Gleaning Baptist Church Samaritan Program
We continue to partner with Gleaning in its outreach efforts. Remember to bring your food items, clothing (special need for children's clothing at this time) or donations to support feeding and clothing the homeless and others. Please check the expiration date on the food items. Selected furniture is also available for those needing help to set up housekeeping.
Sick & Shut In
Take a moment to remember our Sick & Shut In members by keeping them in your prayers. We ask that our able members check on our elderly and sick & shut in members often during the coming months. We need to make sure that they stay warm and comfortable during the cold days of winter to avoid complications that can be bought on by the low temperatures. As a courtesy, please call before visiting.
Reminder for All Program Chairs
Please don't forget to send the details of your upcoming program to the Publications Ministry as early as possible so that we may help get the word out about your event. Also remember that we are here to help you with any printed materials for your program that you may need as well. You may email your information to: